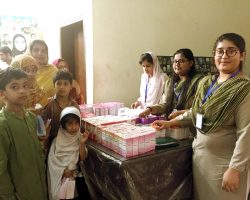 The Beaconhouse Social Awareness Internship Programme (SAIP) provides opportunities for students to work with different organisations involved in social sectors, such as health, education and the environment.
Beaconhouse students undertake summer internships in many not-for-profit organisations such as CARE Foundation, WWF-Pakistan and media groups such as Dawn in Pakistan. Internships not only help students take their first steps in the professional arena but also assist with university placement and admissions.
In 2017, around 1500 Beaconhouse students interned at various organisations across Pakistan, including, among others, The Citizen's Foundation, The Little Art, SOS Village, CARE Foundation, Karachi Down Syndrome Programme, Autism Institute of Pakistan, Shaukat Khanum, Al-Shifa Eye Trust, Pakistan Sports Complex, Sindh Institute of Urology and Transplantation and PLAN 9.
Internship Organisations Across Pakistan