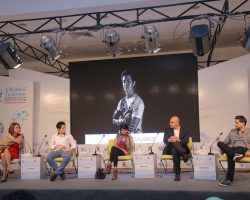 School of Tomorrow (SOT) Events
School of Tomorrow (SOT) events started in the year 2000 as a free-to-public event series organised by Beaconhouse as part of its ongoing commitment to social responsibility.  Over the years, the series has featured hundreds of activists, cultural leaders, educators, futurists, thinkers, along with three prime ministers and presidents and other trailblazers from across Pakistan, the United States, the United Kingdom, Australia, New Zealand, Malaysia, India and many other countries.
SOT Events
2005:    'Towards 2035' (Lahore, Karachi and Islamabad)
2010:    'Freedom to Learn' (Lahore)
2012:    'Empowering Lifelong Learners' (Kuala Lumpur)
2015:    'The End of Education?' (Karachi)
2016:    'A World of Tomorrow – Seeking Inspiration and Equilibrium in a New Age' (Lahore)
2017:    'A World of Tomorrow – Seeking Inspiration and Equilibrium in a New Age' (Islamabad)
Beaconhouse International Student Convention (BISC)
The first Beaconhouse International Student Convention was held in Bangkok, Thailand, in January 2016; the latest event, 'BISC 2017', was held in January 2017, in Kuala Lumpur, Malaysia. A co-curricular/cultural and sporting event, BISC 2017 saw more than 160 boys and girls participating from Beaconhouse schools in Oman, Philippines, Thailand, Malaysia and Pakistan in a wide range of sports and co-curricular competitive activities.
BISC events aim to bring the worldwide network of Beaconhouse schools together to create a global community of students and teachers who can learn from one another while representing Beaconhouse as an international leader in education.
Long Service Awards
Beaconhouse values the contributions and hard work of all its staff members. It holds its Long Service Award Ceremony every five years to honour employees who have completed between five to 35 years of service.
Open Days
Campuses and branches across the system hold Open Days to let parents interact with the school faculty and administration, as well as with the existing parent body. In addition to interactive educational activities for children and their parents, Open Days allow them to explore the prospective campus facilities and learn about curricular and co-curricular offerings.
College Fairs
To help students decide which institutions to select for higher studies, The Access Centre regularly organises College Fairs. Representatives from renowned universities around the world attend these fairs, including those from Canada, UK, Australia, New Zealand, Germany, Malaysia, Hong Kong, UAE and Turkey, among others. Notable national universities across Pakistan are also represented at these fairs. University representatives share information and guide visitors about applications and financial aid, allowing students to make better choices about further education options.