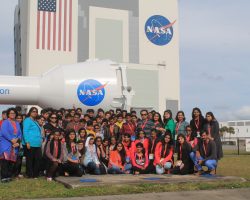 Every year, many Beaconhouse students from across the network travel internationally to engage with peers in various conferences, competitions and workshops. More than 1300 Beaconhouse students from across Pakistan have participated in international activity programmes. Over the past seven years, international travel has included the UK, European Union, USA, Far East as well as Turkey, North Africa, the UAE and China.
Beaconhouse promotes learning tours combined with cultural and recreational activities for its students. Beaconhouse students have been benefiting from summer and winter international activity programmes since 2011.
In addition to providing quality education, the programmes create international travel opportunities for students to develop confidence and learn what it means to be a global traveller. We believe that students gain invaluable experience and understanding through travel. Students' interaction with people and other students during organised tours provides exposure to rich cultures, history and traditions, while adding value through this memorable learning experiences.
The International Educational Programmes have accommodated students of Class VI to XC including IXM as well as XIC and A1.